With a Fluke 1770 Series Three-phase Power Quality Analyzer in your tool bag, you'll never miss a critical power quality event. Capture fast transients up to 8 kV, harmonics up to 30 kHz, dips, and swells, as well as the voltage, current, and power measurements that enable you to characterize your electrical system.
But there are a lot of uses and features packed into this tool, how do you get started finding the power quality issues you need to mitigate? Learn how to make the measurements needed to find the most common power quality issues using a power quality analyzer.
Issue 1. Finding harmonics issues
Measure with: harmonic evaluation and analysis of the electrical system or surveys
When downloading data from the Fluke 1770 Series Power Quality Analyzers, Energy Analyze Plus software can do the work to compare measured voltage and current harmonic statistical data to different standards. Follow the steps on the screen to determine if any of your measurements exceed compliance limits.
Energy Analyze Plus is a powerful predictive maintenance feature that enables current harmonics to be observed before distortion appears in the voltage. In turn, this allows you to prevent unexpected failures or situations where you're out of compliance and allows you to increase your system uptime.
Issue 2. Wasted energy
Measure with: energy surveys evaluating energy consumption
As you're working with your 1770 Series Analyzer, you can easily evaluate energy consumption. Once you've downloaded the data, the Energy Analyze Plus software can help analyze, track, and report the energy data you've captured. Following the on-screen prompts, you can compare your results to historical values, benchmark against industry norms, compare measured data to local conditions, and create a more complete picture of what's occurring across your facility.
Using the Live View, you can even begin viewing this information while the data is still being collected.
Issue 3. Overloaded panels
Measure with: load studies
Tracking your assets over a period of time can help you identify if the current panel is overloaded or if a load can be added without costly upgrades. The 1770 series is designed with Logger Mode to help ensure you don't need extensive training to find potential problems.
The system will guide you through the setup process, showing what to plug in where, and which buttons to push as you move along. The analyzer is also set up with built-in event triggers, based on power quality standards. Though these settings are fully customizable, you don't actually need to go in and modify unless you want to make changes from a standard.
Load study reports
Once your load study is complete, you analyze the information and build out a report. Go through and analyze the details of energy consumption you've measured and logged with an automated report. Seamlessly view your power quality state-of-health without learning any additional software. The one-touch automated reporting creates standardized reports that fit the global measurement standards and guidelines.
Issue 4. Capture electrical disturbances
Measure with: PQ Meter Mode and advanced transient capture technology
The Fluke 1775 and Fluke 1777 Power Quality Analyzers incorporate advanced transient capture technology to help you clearly identify high-speed voltage transients so you can install the necessary mitigation to prevent damage to your equipment.
| | | |
| --- | --- | --- |
| | 1775 | 1777 |
| SAMPLING CAPACITY | 1 MHz | 20 MHz |
| | Capture fast transients | Capture the fastest transients, in high detail |
Setting up your analyzer to capture these transients is designed to be quick and easy. Once you enter PQ Meter Mode, the instrument will walk through the actions you need to take. The screen will even show any potential issues in your setup, so the data collected is as accurate as possible.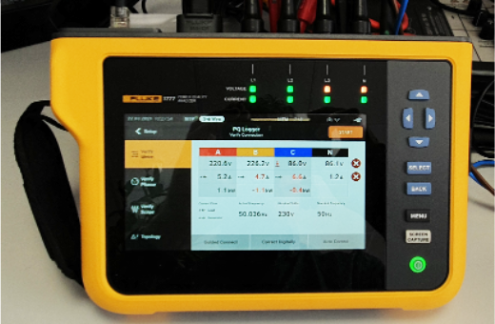 1777 Power Quality Analyzer verification screen. The Start button remains Orange until the problem is solved.
Beyond this, the 1770 series has the ability to not only identify wiring problems, but with a single button press, can auto correct or fix the wiring problems. This removes the need to manually adjust the clamp and cable position. When an issue is detected, the Start button will turn Orange. In order to fix it, simply tap Auto Correct at the bottom of the screen. When the Start button turns green, the recording can start without worrying there could be a wiring problem or voltage setting problem.
Issue 5. Uncover additional issues
Measure with: power quality surveys
Whether you know the specific issues you're looking for or not, the 1770 Series Power Quality Analyzers offer a 2-in-1 device that combine the troubleshooting functionality of a power quality meter with the robust analysis and logging capabilities of a standalone power quality analyzer—in a single, easy-to-use, handheld device.
While you're recording data for a load study, you're able to view it at the same time. PQ Health is a window into the quality of power you're receiving at that moment. This view compares the data you've collected against a standard to show an easy-to-read color-coded bar graph.
Once you've completed your load study or system survey, the analyzer can create an easy-to-use report. This will make it fast and simple to capture and identify electrical problems and see them all clearly laid out in a summary report. Catch load, power factor, and harmonic issues within the data collected by the 1770 Series.
About the 1770 Series
Fluke 1770 Series Three-Phase Power Quality Analyzers are powerful tools that eliminate the complexities of power quality logging, troubleshooting, and analysis. These analyzers are engineered to be the faster, easier way to perform power quality studies, offering automatic measurements, a straightforward user interface and setup, best-in-class specifications, and a simplified reporting platform. The instrument can also be powered directly from the measurement circuit, eliminating the need to find a power outlet or use a lengthy extension cord.
| | | | |
| --- | --- | --- | --- |
| | | | |
| Applications | 1773 | 1775 | 1777 |
| Energy surveys and load testing | ✓ | ✓ | ✓ |
| Harmonic surveys | ✓ | ✓ | ✓ |
| Nuisance circuit breaker tripping | | ✓ | ✓ |
| Electric utility power quality surveys | | ✓ | ✓ |
| Discovery of equipment failures caused by 8kV microsecond transients | | ✓ | ✓ |
| Discovery of equipment failures caused by 8kV nanosecond transients | | | ✓ |